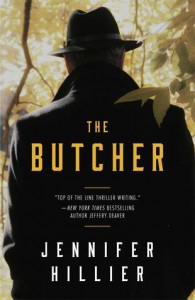 "A rash of grisly serial murders plaqued Seattle until the infamous "Beacon Hill Butcher" was finally hunted down and killed by police chief Edward Shank in 1985."
He is now retired, and widowed, and giving his house to his grandson, Matt. While doing renovations, Matt unearths more than he bargained for. It is something that will change his life and relationship with his girlfriend forever.
The Butcher (352 pgs, Gallery Books, July 12, 2014) by Jennifer Hillier is one of those stories that you already know the who, but you have to figure out the why and how. I received this book through Edeileweiss for an honest review.
The description of the killings are the exciting parts of the story. They where so real.
The issue I had was the predictability of the flow and the repetition of the dialogue.
I would recommend this book to anyone that likes an easy read on psychopaths.